Chrissie Day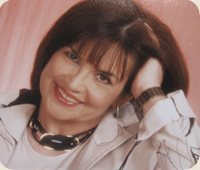 Chrissie Day is a well known English knitting and jewelry making tutor who has been been featured in many national publications and is the author of 5 craft books with Wire Jewelry, Knitted Twisted and Crocheted being her 1st. Chrissie Day's titles are stocked in many countries now and her second book Felt Style has been translated into Dutch, and many monthly journals feature her designs and also the online magazine Knit on the Net.
Chrissie Day has appeared on live craft television and on the online video link magazine Create and Craft.
Appearing live at the National craft shows demonstrating, and is often to be seen on various stands advising and meeting beaders, knitters and crocheters .
BIO ~ Chrissie Day
Chrissie Day is the creator of numerous kits for Twilley yarns ie wire jewellery, felted hats and bags created for Bloomsbury Trading, and Pavi Yarns and Create and Craft online journal, and UK Knitting magazine, New range of' knit to felt' for Australian company Saleutions, Work appearing in various knitting journals, Knitting, Simply Knitting ,Lets knit, Yarn Forward, and Knit on the Net Supporter of 'Children's liver disease foundation' and Breast Cancer.
In Chrissie's own words - I cannot remember a time before knitting, a time when yarn did not feature in my life and I allowed it to run through my fingers, my mind to wander on a journey full of colour, shapes and what could be. I knitted through childhood, knitted through teenage years through long hours of night duty as a nurse, through many countries as I travelled, through long lonely evenings and sad times, and also through happy happy times and events, through my children's childhoods and now into knitting appearances at shows and on tv, writing patterns and books, and enjoying all the great new yarns the yarn companies bring out for us knitters to enjoy. I'm very proud of my teaching abilities as well as my writing.
My inspiration is always nature and certain architecture that grasps my attention as I travel, whether it be the prize-winning airport in Madrid or a peeling painted door in Greece, or simple leaves and flowers from my gardens, which are always inspirational to me in every season, even rain on stone.
I think if my stitches were tears I would have knitted an ocean by now but equally much of my work is interlaced with soft memories and golden times of the past worked in to every stitch binding the garment together just as in felt making, memories are worked in.
I cannot imagine a life without yarn, no knitting, no felting, no crochet, no weaving no dreaming, no smiling
Books ~ Chrissie Day
Wire Jewelery (now on 2nd print and back on the book shelves), Felt Style – Knit it Felt it or lay the Fibres – You Choose-now translated into Dutch, Quick Crochet – Classic Stitches w/ Beautiful Modern Yarns and Design, Cozy Socks –30 crazy zany pairs, Cozy Hotties –30 beautiful designs with luxurious and trendy yarns
Education ~ Chrissie Day
Chrissie Day was educated at an English Grammar School in the days when there was strict discipline so now hopes her old headmistress is proud of her. One of her greatest moments was being invited back a couple of years ago and meeting the design students and the reading group and giving her books to the school library.
Chrissie Day studied nursing and specialised in orthopaedics , did her embroidery exams, became a member of the International Felting Association, studied Design and took exams as a mature adult combined with more embroidery, felting and knitting. In reality she have never stopped learning.