Joan McGowan-Michael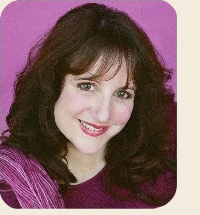 Joan McGowan-Michael creates romantic knitwear with special consideration for a wide range of sizes from petite to plus.  As a knitwear designer and instructor, Joan is dedicated to the concept that large is just as lovely as little and focuses on styles that show off your shape while remaining comfortable and flattering.
BIO ~ Joan McGowan-Michael
Joan McGowan-Michael has been a professional fashion designer for over twenty five years, styling garments for retailers as diverse as Frederick's of Hollywood and JC Penney.
She founded her company, White Lies Designs, with her husband Mike in 2001. It has since become the original go-to resource for lingerie patterns for hand knitting, and other romantic, vintage inspired knitwear styles. The thread that runs through all of her work is the celebration of romance and the feminine form. All of her beautiful designs are available in a wide range of sizes from petite to plus.
Joan has written articles and published designs in all of the major knitting magazines and contributed styles to books including Big Girl Knits and Stitch-n-Bitch Nation.
She has appeared on DIY network's Knitty Gritty, PBS's Shay Pendray's Needlework Studio and Good Evening Sacramento, and has been profiled in Cast On , Interweave Knits, and Knit 1 magazines.
Her own book, Knitting Lingerie Style was released in May of 2007 by STC publishing and includes 32 lingerie and lingerie-inspired designs. If you like pretty, lacy and feminine knitting, don't miss it!

Joan McGowan-Michael lives in Sacramento, California.
Books ~ Joan McGowan-Michael
Knitting Lingerie Style by Joan McGowan-Michael.  If you love White Lies Design this is the book you\'ve been waiting for!  Joan has single-handedly pioneered the current trend for knitting undies and in this book has designed 32 pieces of actual lingerie and lingerie-inspired garments.