Kristin Drysdale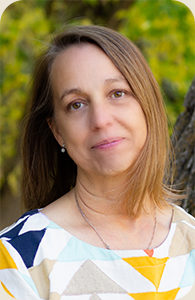 Not all great knitters make great knitting instructors. Kristin is both. If you've always wanted to learn (or improve) colorwork skills while learning valuable sizing and finishing tips that make knitting more fun, you will love cruising with Kristin. Seasoned knitters frequently say they've learned more from her than any knitting instructor they've ever taken a class from. That is humbling to her, and mentioning it sets high expectations for her classes. But she works hard to surprise and delight in every class, and has a lifetime of knitting skills to draw on. She is patient, kind, and a good trouble-shooter who has helped thousands of people become lifelong Scandinavian colorwork enthusiasts. Kristin is looking forward to teaching on this knitting cruise as well as many more Craft Cruises in the future.
BIO ~ Kristin Drysdale
Kristin has taught and designed for over 25 years. Kristin specializes in continental knitting, colorwork, and how to make sweaters that fit any body type. Her goal is to help knitters everywhere become independent and confident makers. She believes anyone can learn to create heirloom garments that fit, last, and are beautiful both inside and out. Creating ornate knitwear is possible using Kristin's innovative and approachable methods to colorwork. If you've ever felt intimidated by multicolor patterns Kristin will help you fall in love with colorwork. Kristen's students are always encouraged by how easy she makes learning the skills needed to create gorgeous garments using masterful Scandinavian techniques.
Kristin is an uplifting, kind, and patient teacher with the gift of being able to transfer her knowledge to others. She loves to share tips and tricks gleaned from a lifetime of Scandinavian knitting.
Books ~ Kristin Drysdale
The Nordic Knitting Primer by Page Street publishing is coming out on Sept. 6, 2021. She also has an extensive line of self-published patterns, and her designs have also graced the pages of Laine Magazine, Harrisville Designs, Brown Sheep Wool Company, and Knitters Magazine. Her lovely vintage cardigan, Marit, in Laine Magazine issue 7, is currently on the needles of knitters all over the world.
Education ~ Kristin Drysdale
BA in German, BA in History, Secondary education teaching certificate, University of Utah. Kristin also studied for 1/2 year at Christian Albrecht Universitaet in Kiel, Germany and spent her junior year at the Salzburg Universitaet in Austria.