Marie Greene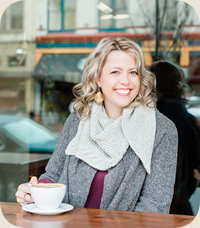 Marie Greene learned to knit from her grandmother at about age eleven. While her grandmother taught her the English style of knitting, Marie soon found that she was teaching herself how to knit continental style. From there she says she has never put her needles down. In the early days after she got married, Marie served as a seamstress for the Navy Reserves. Later she worked as a hospital finance project manager and worked part-time in a knitting shop to feed her passion. When questioned by customers about the sweaters she designed and knitted, she realized she didn't know how to translate her work so that others could follow her patterns, and she set about learning how to do that, never looking back. Known for classic seamless designs through her brand, Olive Knits, she also is known through her work with companies like Laine Magazine, The Fibre Company and Skacel Collection.
Marie loves "crunchy wool, coffee, true crime podcasts, and rainy days." Even Mondays and early mornings, too. She is the author of two books: Seamless Knit Sweaters in 2 Weeks (Feb 2019, Page Street Publishing) and Knit Shawls & Wraps in 1 Week (Oct 2019, Page Street Publishing). Marie favors texture and clean lines, and her goal is to create wearable knitted garments that people will reach for regularly. She teaches online workshops, including a popular virtual Knit Camp, and is a frequent teacher at venues around the country.
Marie is perhaps best known for her viral 4 Day Sweater Knitalong, which brings thousands of knitters together (online) each year for an annual knitting adventure. Committed to fostering joy through making, Marie's upbeat personality shines through in her weekly audio podcast, Good Enough Creative, (which can be found on your favorite podcast app). In addition, she gave a TED talk entitled "Think Like a Maker," which can be found on You Tube.
Books ~ Marie Greene
Seamless Knit Sweaters in 2 Weeks: 20 Patterns for Flawless Cardigans, Pullovers, Tees and More (Feb 2019, Page Street Publishing)
A collection of 20 patterns for wearable sweaters and tops that can be knit in a matter of a few weeks.
ISBN-10: 1624147402
ISBN-13: 978-1624147401
Knit Shawls & Wraps in 1 Week: 30 Quick Patterns to Keep You Cozy in Style (Oct 2019, Page Street Publishing).
A collection of 30 quick-to-knit shawls, wraps, and cowls suitable for advanced beginners and beyond.
ISBN-10: 1624148611
ISBN-13: 978-1624148613
Education ~ Marie Greene
former hospital finance program manager