Martina Behm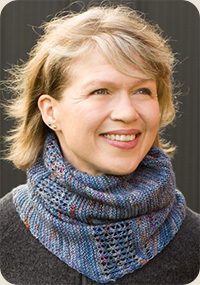 Do you like your knitting to be easy but fun and engaging? Then you probably have come across Martina's designs. Her most popular design is the Hitchhiker, the first shawlette using this shape and construction, but you may also be familiar with Nuvem, Viajante, or Match & Move. Martina Behm loves to make cowls, hats, and shawls constructed differently. Together you will explore exciting places while knitting fun projects like the Tensfield hat, her Tough & Toasty-mittens, the Quadra Cowl, and a new design she created especially for participants of this cruise. The new design will be taught in three classes and will be a bit challenging.
Martina will also teach classes about different techniques of two-sided or provisional cast-ons and knitting in the round that will be useful for tackling a wide range of projects. Her classes are all suitable for enthusiastic knitters of all skill levels, even less experienced or young knitters. The projects will be relaxing but interesting – just the thing for a beautiful cruise where you can kick back and enjoy the view!
BIO ~ Martina Behm
Martina Behm is a popular German designer known by many for her popular pattern, Hitchhiker. This pattern has been downloaded more times than any other pattern on Ravelry, with many fun variations. This narrow, slightly asymmetrically shaped triangular shawlette can be wrapped around the neck several times.
Books ~ Martina Behm
Martina Behm has two published knitting books. Knitting Inventions – 20 Original Patterns and The Hitchhiker Collection – 20 shawls to knit.
Education ~ Martina Behm
Martina Behm has a degree in economics from the University of Oxford (UK) and graduated from Henri Nannen Schule (School of Journalism), Hamburg.