Melissa Gower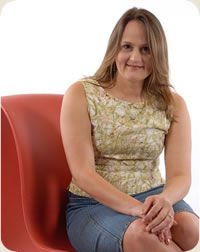 Instructor Website:
Melissa Gower is the founder of Craft Cruises® and has been knitting since 1998 . Melissa does not consider herself to be a knitting expert by any means but surrounds herself with some of the most influential instructors and designers in the fiber arts world. One day Melissa dreams of being able to take one of her own cruises and actually enjoy taking some classes. Knitting travel is growing as an interest resulting in continued expansion. Melissa is thankful to have so many absolutely amazing repeat-cruise clients who motivate her to keep up the hard work.

On every cruise, with time permitting Melissa, is happy to teach other passengers and even crew to knit. Always packing some extra needles, yarn and learn-to-knit kits Melissa encourages those in the group to invite interested cruisers to stop by our evening sit & knit sessions to give knitting a try.

Since starting Craft Cruises® in 1999, Melissa Gower has escorted thousands of knitters, beaders, spinners and crocheters of all skill levels on cruises around the world.

Melissa is not only passionate about the art itself but also in sharing the love for knitting with others. She believes knitting enables people to make connections on levels where cultural boundaries are set aside and differences are celebrated.

Melissa Gower lives in Steamboat Springs, Colorado wit her loving husband, Shannon, and gorgeous dog named Ili.
BIO ~ Melissa Gower
For a complete bio on Melissa Gower please click on the About Us above link to learn more.
Education ~ Melissa Gower
AAS in Travel & Tourism from Northampton Community College in Bethlehem, PA and a BS degree in Business Administration from Cedar Crest College in Allentown, PA.